Ever wonder if there's an easier way for enterprise sales reps to stay on top of their key prospects?
One thing you need to do as a rep is stay in touch with multiple stakeholders within a project - if one person leaves it causes a delay.
Doing this manually can be challenging.
Using a tool like Radar can help…
In this blog post you'll learn how to leverage Radar (...and your network) to easily generate opportunities, and drive revenue. 
First things first - what is Radar?
Radar is a Chrome extension that allows you to keep track of your contacts without having to scroll aimlessly through your LinkedIn feed. 
Radar will keep track of what's happening with your clients, and prospects… or anyone else you have an interest in keeping on your Radar. You'll be the first to know when they fundraise, make a new hire or announce something new (like a product or feature). Radar ensures you never miss another opportunity to reconnect or engage.
Let's go through the 5 key aspects of how Radar can help YOU…
Monitor your key relationships
Add clients, prospects or anyone you want to stay up to date with to Radar, and let Radar keep up with their updates and send you a rundown of their updates via email. Stay informed when they change their job, and post - all via email. You won't have to scroll through your LinkedIn feed, instead get curated updates right in your inbox. With our pro account, you can add up to 100 contacts, and monitor their updates seamlessly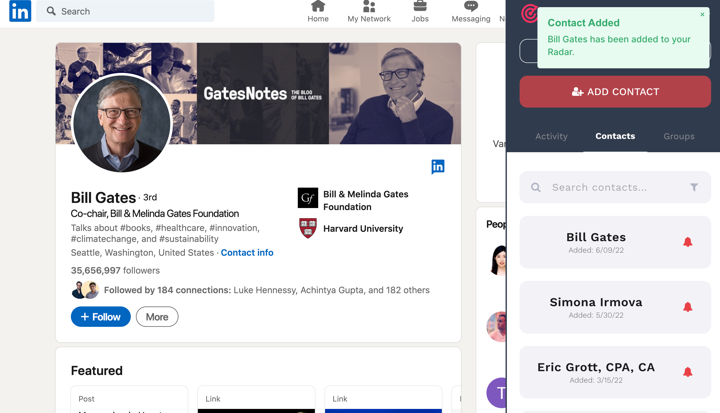 Focus on important updates using the activity feed
Your social feeds are cluttered with irrelevant content... making you miss updates from people you actually want to know about. By adding the contacts you really care about to Radar, you can go through a selective activity feed to make sure you haven't missed anything important. Just add a contact to your Radar, and you can monitor their updates via your email (real time updates) or go through their activity feed on the extension itself. Here you'll be able to see a timeline of updates, and understand what your contact is currently up to.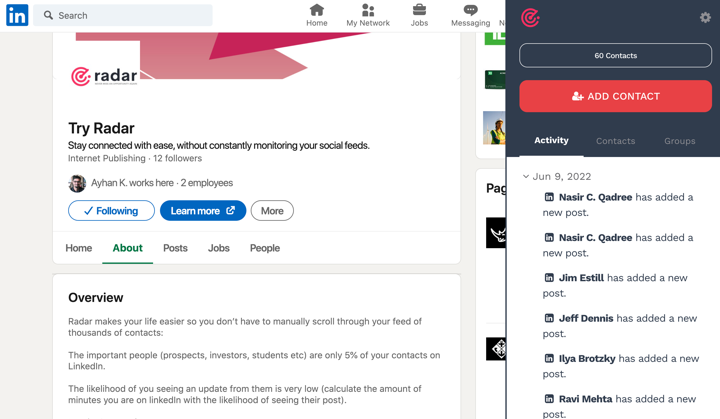 Easily nurture relationships
Get notified when your connections get a new job, receive a new round of funding or release an article. Don't miss a chance to make a valuable touchpoint with someone following an update. So many times we miss important updates in someone's career journey because our feeds are too cluttered (...or because a job change is done privately on LinkedIn). Never feel that again with Radar, be the first to know when a contact posts an update or changes a job (even privately).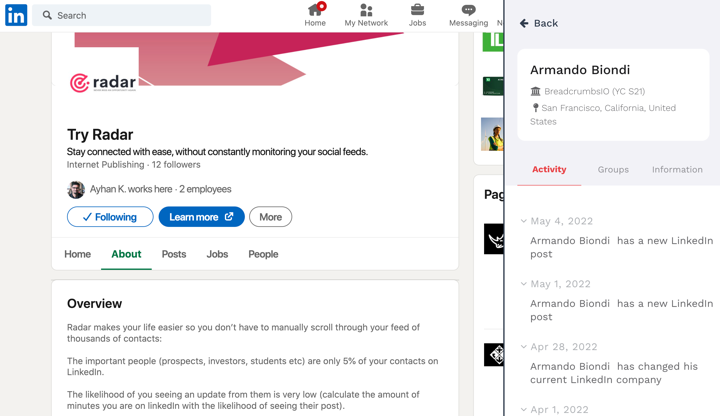 Automatically get notified
Let Radar work in the background and monitor your social feed for you. When an important update comes up you'll receive an update via email. Follow up with your contact, and let them know you're invested in their journey. A past client could have changed jobs, and now you have the potential to provide a service similar to one you've provided them in the past. Or a client has finally fundraised enough to be able to re-engage you. Radar ensures you have all the information required to make meaningful touch points.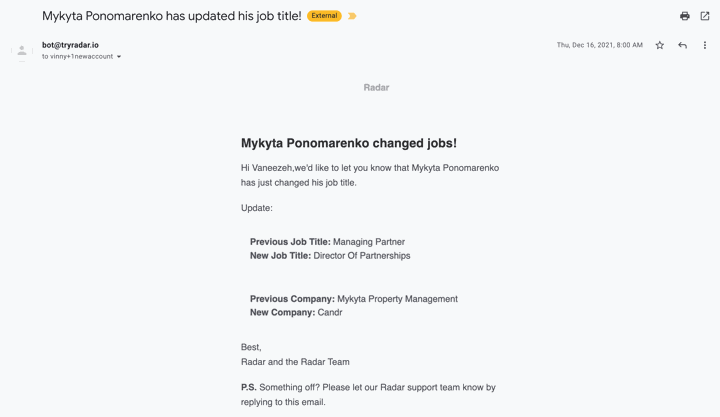 Stay organized using groups
Use the Groups feature to easily organize your contacts and receive updates based on your custom grouping. Easily monitor their activity feeds to see the updates you really need to see. See what past clients, current clients, prospects, etc.. are up to.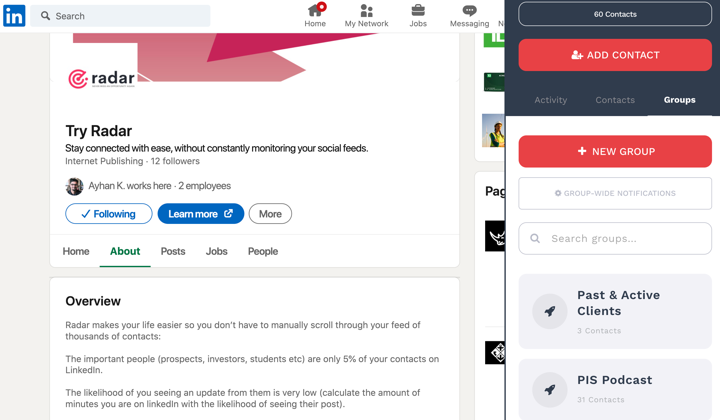 Install Radar here.